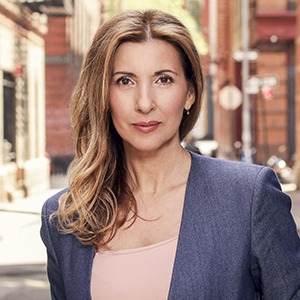 As an owner and partner with The Hardesty Team, Theresa Ferraro is a seasoned real estate specialist whose myriad of vital functions includes helping customers find their dream home. She truly loves getting to really understand exactly what her clients are looking for and helping them get it.

A native New Yorker who's lived in many parts of Manhattan-from uptown to down, on the east and west side-for over 30 years, Theresa is very knowledgeable of the city's diverse neighborhoods as she is of the Westchester market she and her husband Ed also know and represent well.

As a former longtime Manhattan Supreme Court reporter on many prominent cases, Theresa truly understands the art of listening and the value of discretion. She is a genuine people person who strives to make the real estate process seamless and informative for clients so they always walk away highly satisfied with their experience. During her time in the NYC legal system, Theresa also worked as an actor in theater and independent films, which gave her an even greater level of focus and exposure to a wide network of connections.

Theresa has specialized in residential real estate sales, commercial and rentals since 1998. She was a Board member and fundraiser for the Dobbs Ferry Schools Foundation for the last eight years, plus acted as co-chair of numerous galas. She has volunteered on the Dobbs Ferry Downtown improvement task force. Always a connector, networker and entrepreneur, she runs a team of 7 brokers and sales agents between New York City and Westchester.

She and her husband Ed Hardesty currently reside for 18 yrs. with their three daughters in southern Westchester, where they also sell beautiful homes in association with Compass and The Hardesty Team.

When asked what makes Westchester feel like home? "The ability to maintain your NYC lifestyle--only now with your very own backyard! Your home, our mission.